Click on the One Cancels Other expand button to view more order input fields. Click in the Contract field and add the second ticker, in this case, GOOG. Determine the LMT as the Order Type and add the desired Quantity and Limit Price. Select Day as the time-in-force. Next, click on the Add Order expand button to create a duplicate field and add YHOO. Enter the desired details for this element of the order in the same way you did for GOOG. Before transmitting this trade we must make a selection from the box labelled On Fill. Click in the field to reveal the alternatives.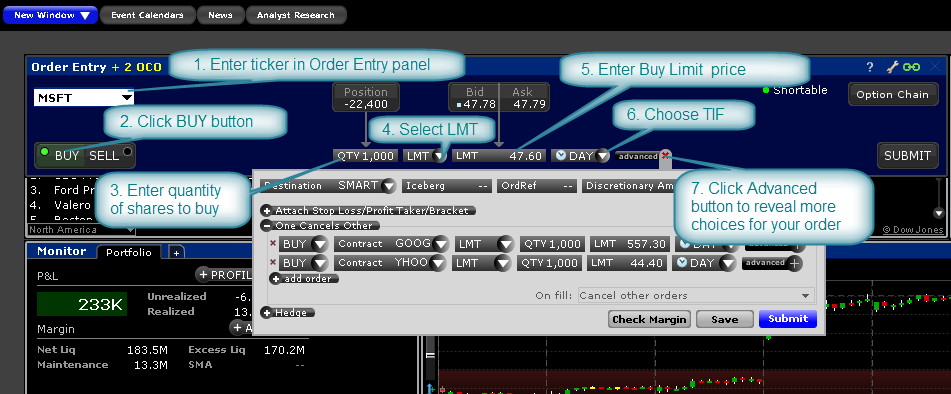 There are three choices. In this example, because we only want to own shares in ONE stock, the selection to choose is Cancel Other Orders. Note that when "Cancel Other Orders" is selected, Overfill Protection is activated automatically. However, the user could choose to Reduce Other Orders such that, as one of the orders starts to fill, the amounts of the grouped orders is reduced commensurately. In this case, the user may end up buying a total of 1,000 shares but in more than one of the securities. Note that electing to reduce other orders WITHOUT using overfill protection will likely see multiple orders being routed to an exchange, potentially resulting in an overfill, or in the case of multiple sell orders where one is tagged as "short sale" in a rejection.
Finally, the choice to provide Overfill Protection dictates that only one of the submitted orders be routed to an exchange at a time. This completely removes the possibility of an overfill for the order. Once you are content with the variety of input choices for your order, transmit the order by clicking on the Submit button.